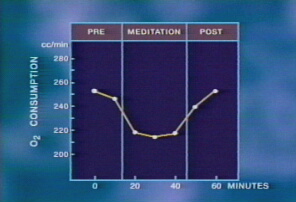 Oxygen consumption decreases during meditation
indicating a low demand for oxygen during deep rest.

First published study on meditation by Dr. Benson:
in 1971, "A wakeful hypometabolic physiologic state"
Dr. Herbert Benson and Dr. Robert Keith Wallace


Benson, H.; Wallace, R., et al. Decreased drug abuse with Transcendental Meditation: A study of 1,862 subjects. In Drug Abuse: Proceedings of the International Conference, ed. Chris J. D. Zarafonetis, pp. 369-376. Philadelphia: Lea and Febiger, 1972.

Dr. Benson's research in to meditation
began with the Transcendental Meditation
technique, as taught by Maharishi Mahesh Yogi.
But he is maintaining a neutral, objective position,
not aligning with any particular meditation organization.
Research indicates that TM, which has a particular way of
being taught, is more effective in producing consistent results.
For more information on TM in particular,
see www.TM.org