A MESSAGE FROM THE PRESIDENT OF THE MIND/BODY MEDICAL INSTITUTE
Dear Friends,
Over the past 30 years, my colleagues and I at the Mind/Body Medical Institute (M/BMI) and Harvard Medical School (HMS) have established mind/body medicine as a scientifically-validated aspect of medical care. Mind/body medicine is derived from a variety of disciplines (physiology, immunology, psychology, neuroscience, neuroimaging) that increasingly point to the scientific foundation of our interventions.
Research and clinical practice have proven the efficacy of a mind/body approach in treating patients with a wide range of stress-related symptoms and/or chronic conditions. In our overburdened health care system, the need for innovative, effective, and efficient self-care treatments such as mind/body medicine offers has never been greater.
These five different courses in mind/body medicine, presented by the M/BMI and the HMS, Department of Continuing Education, teach the scientific basis of our work as well as specific skills and strategies for clinical utilization. Year after year, these courses have been rated among the highest of all HMS, Department of Continuing Education offerings.
We invite you to enhance the effectiveness of your practice as you explore new paths to healing with training in mind/body medicine.
Sincerely,
Herbert Benson, MD
President, Mind/Body Medical Institute
Associate Professor, Harvard Medical School
Chief, Division of Behavioral Medicine,
Beth Israel Deaconess Medical Center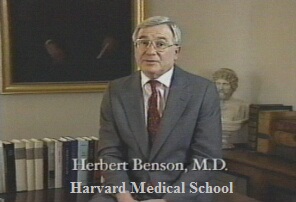 Herbert Benson, M.D. Harvard Medical School
---